Mechanical Presses
MCX-S2 Series
2-POINT STRAIGHT SIDE PRESSES
FRONTAL ECCENTRIC GEARS
Press capacities range
from 4000 kN to 8000 kN
MCX-S2 are straightside frame, tie rod construction presses. Each frame component is designed and verifi ed with FEM systems and manufactured to reduce deflection under load below 0,1 mm/m. All structural components are made of quality-controlled steel plates, thermally stress-relieved after welding. Reduced frame deflection and elongation enables higher precision metal stamping.
The MCX-S2 presses includes a high-performance air-friction combination clutch and brake and a quill mounted flywheel with optional medium or high energy drive. Configurations include single or double eccentric gear drive, a wide variety of stroke length and die height choices as well as zero clearance roller-type slide guides.
Designed to specifically serve progressive and transfer die applications and associated off-center loading.
High rigidity frame, tie-rod construction, counter-rotating gears, roller guides.
Self-contained counter-balance cylinders that reduces packing wear which results in lower maintenance and elimination of air leaks. Air surge tanks not needed.
8-Point roller guiding of the slide.
Equipped with AIDA Hydraulic Overload Protection (HOLP), the AIDA's high flow rate hydraulic overload protection system featuring the fastest response time available on the market.
Below the main specification of this press series.
To request the product catalog in pdf format click on the side.
MCX-S2-4000
MCX-S2-6300
MCX-S2-8000
Capacity
kN
4000
6300
8000
Slide Stroke
(single reduction)
mm
250-300-350
350-400
400-450-500
Slide Stroke
(double reduction)
mm
–
400-450
400-450-500
Slide and bolster length
mm
2500-3050-3650
3050-3650-4250
3650-4000-4600
Slide and bolster width
mm
1500
1500
1800
Side window opening
mm
1100
1250
1400
Shut height
mm
600-650-700-750
700-750-800-850
750-800-850-900
Slide adjustment
mm
250
300
300
Press speed in pendulum
mode (single reduction)
mm-1
20÷60
20÷60
20÷50
Press speed in pendulum
mode (double reduction)
mm-1
–
10÷30
12÷30
2021-05-17T09:42:56+02:00
servo
2-point straight side presses
frontal eccentric gears
2023-06-28T09:57:29+02:00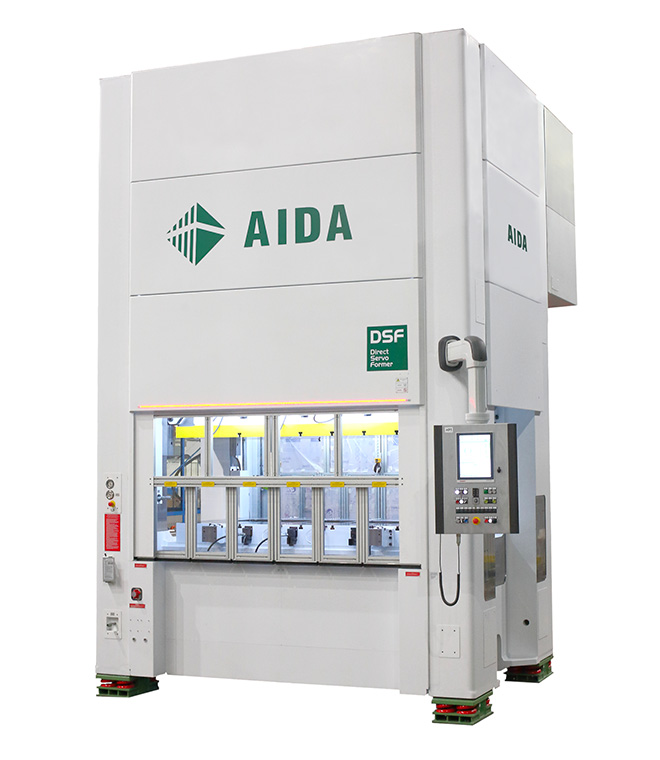 servo
2-point straight side presses
frontal crankshafts
2021-05-17T09:51:25+02:00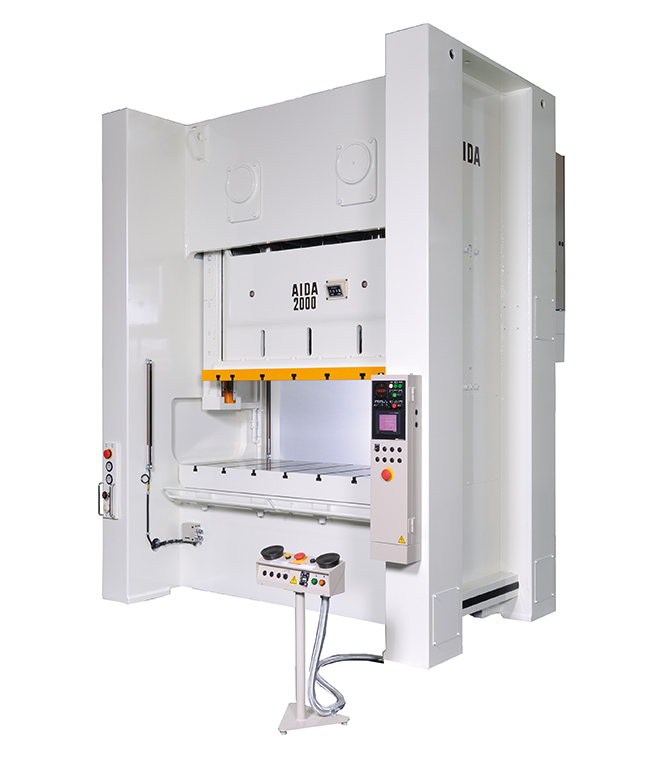 mechanical
2-point straight side presses
frontal crankshafts