Servo Presses
DSF-NE2 Series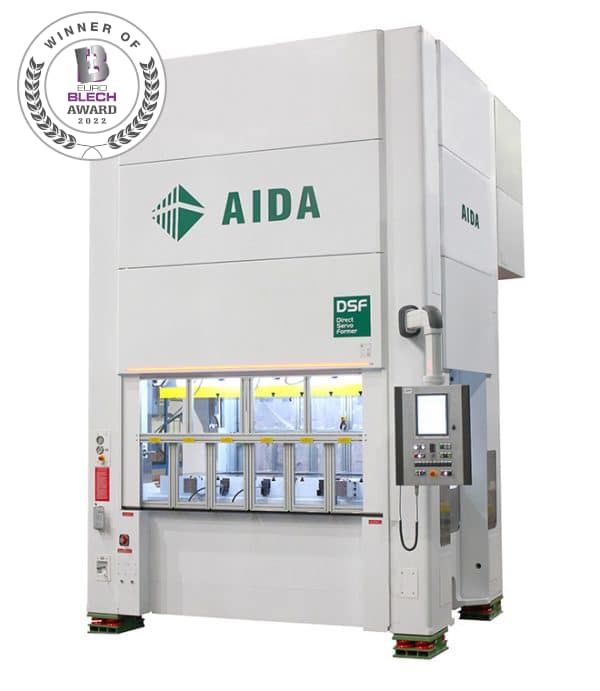 2-POINT STRAIGHT SIDE PRESSES
Press capacity of 4000 kN
The DSF-NE2 is a 2-point direct servo straight side press that combines the high rigidity of a monobloc frame with the flexibility of the freely programmable servo motion of the AIDA DSF® – Direct Servo Former technology.
DSF-NE2 presses are equipped with AIDA's own low RPM high torque servo motor offers unmatched performance in metalforming application. Each frame component is designed and verified with FEM systems and manufactured to reduce deflection under load below 0,1 mm/m. Zero clearance roller guide (and without required lubrication) significantly contributes to longer die life by guiding the slide at the front to back center of the press and by fully guiding the whole range of slide motion.
Thanks to a unique design and cutting-edge manufacturing features, the DSF-NE2 presses series guarantees low-noise, low-vibration multiple varied-length forming, optimizing all manufacturing and maintenance operations and assuring at the same time flexible applications and long die life spans. This series of presses, capable of reaching speeds of 120 strokes per minute, expresses performances of absolute excellence.
High productivity by using a low-speed, high-torque AC servo motor designed specifically for press applications
Direct-drive mechanism connects the motor shaft directly to the drive pinion and then to the main gear in order to achieve high-precision and high valueadded forming
Highly rigid frame, symmetrical front-to-back
Below the main specification of this press series.
To request the product catalog in pdf format click on the side.
| Model | DSF-NE2-2500 | DSF-NE2-4000 | DSF-NE2-6300 |
| --- | --- | --- | --- |
| Capacity (kN) | 2500 | 4000 | 6300 |
| Slide Stroke [Single Reduction] (mm) | 250 | 300 / 300 | 400 / 400 |
| Slide and Bolster Lenght (mm) | 2400 | 2500 / 3050 | 3050 / 3650 |
| Slide and Bolster Width (mm) | 1200 | 1400 / 1500 | 1500 / 1500 |
| Side Window Opening (mm) | 1250 | 1250 / 1250 | 1400 / 1400 |
| Shut Height (mm) | 650 | 750 / 750 | 1000 / 1000 |
| Slide Adjustment (mm) | 130 | 250 / 250 | 300 / 300 |
| Press Speed in Pendulum Mode (min -1) | 140 | 118 / 118 | 104 / 104 |
2021-05-17T09:42:56+02:00
servo
2-point straight side presses
frontal eccentric gears
2023-06-16T10:33:34+02:00
mechanical
2-point straight side presses
frontal eccentric gears
2021-05-17T09:50:54+02:00
servo
2-point straight side presses
frontal crankshafts