Mechanical Presses
FMX Series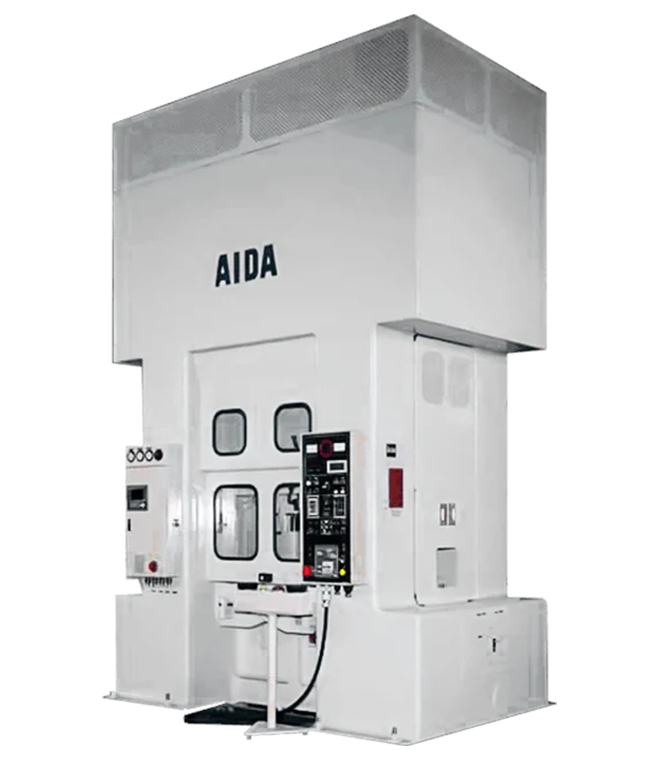 2-POINT LINK-MOTION COLD FORGING PRESSES
Press capacities range
from 6300 kN to 12000 kN
AIDA developed the FMX series of cold forging presses in response to demand from industrial sectors – particularly the automotive industry. The FMX presses have 8-surface slide guides extend working stroke and enhance safety. Independent micro-inching drive reduces setup time for die trials, link motion is used to extend forming boundaries and improve product accuracy and knock-out timing button reduces setup time and enhances safety.
Cold forging forming processes enable the high-accuracy, high-efficiency forming of parts for a wide variety of uses with a wide variety of shapes. High-quality parts begin with high-accuracy forming. The large side and front openings easily accommodate automation and improve workability and safety. The wide-ranging high functionality that is provided by the AIDA FMX cold forging press enables high-efficiency operation and high-quality forming.
For multi-stage link motion cold forging applications
2 connection points, full-length slide guides and high off-centre loading capabilities serve to expand the die process design possibilities
The link motion enables a wider forming range and allows even greater product accuracy and higher productivity
Suitable for extrusion forming of long parts with stepped shapes, transfer forming of billets, cold forging of metal plate billets and closed die cold forging applications
Available with mechanical or 3D servo drive transfers
Below the main specification of this press series.
To request the product catalog in pdf format click on the side.
Model
FMX-6300
FMX-10000
FMX-12000
Capacity (kN)
6300
10000
12000
Rated tonnage point (mm)
13
13
13
Stroke length (mm)
300
400
300
400
300
400
Strokes per minute(min-1)
20÷30
15÷25
15÷30
15÷25
15÷30
15÷25
Die height (mm)
650
1000
700
1000
650
1100
Slide area (mm) (L/R x F/B)
1100×1000
1200×1000
1300×1200
1250×1000
Bolster area (mm) (L/R x F/B)
1100×1000
1200×1000
1300×1200
1250×1000
Bed knockout capacity (kN)
300
120,300,120
500
200,500,200
600
240,600,240
Number of stages
3
3
3
2021-05-17T09:45:44+02:00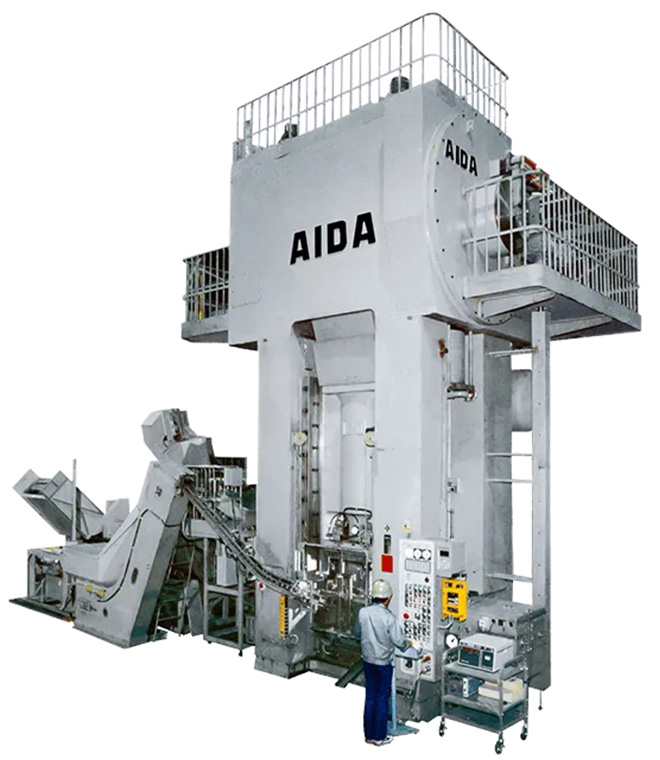 mechanical
1-point cold forging presses
link-motion
2021-05-17T09:46:58+02:00
mechanical
1-point cold forging presses
knuckle joint
2021-05-17T09:47:33+02:00
mechanical
2-point cold forging transfer presses